The Two Rivers Park Trailhead features two distinctly different paved bike trails from our location, which provide the level of outdoor adventure you are seeking. Here is a map of Shelby Bottoms. Here is a map of Stones River.
Shelby Bottoms Greenway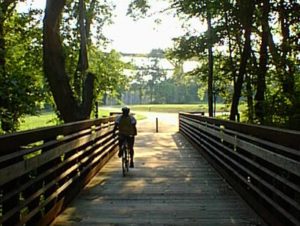 The trail begins with an exhilarating ride through a tunnel underneath Briley Parkway and then over the brand new Cumberland River Pedestrian Bridge that links to Shelby Bottoms Greenway.
3.5 miles smooth paved surface, mostly flat and easily traversed terrain winding through lush green parkway and into Shelby Park in East Nashville. There are also several spurs into the East Nashville neighborhoods bordering the park. We have created routes into this hip, bike-friendly neighborhood using designated "bike route" streets. You can explore shady blocks of interesting homes and historic sites, along with great restaurants and cafes in areas such as Five Points. This park is less than 3 miles from downtown via a well-marked roadway with a wide bike lane so you can continues into downtown Nashville. You enter downtown in style, via the Shelby Street Bridge, a historic former traffic bridge over the Cumberland River that has been converted to pedestrian and bicycle use only. Enjoy spectacular views of Downtown from the Shelby Street Bridge! Total time to downtown is roughly 20- 25 minutes. Locks are included in case you do wind up downtown to enjoy lunch or stop and see the sights.
Stones River Greenway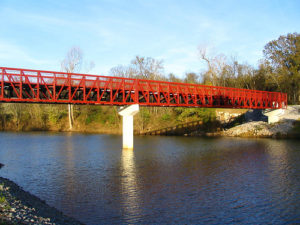 This 10.2 miles paved bike trail begins with winding stretch through the beautiful Two Rivers Park before plunging under McGavock Pike and taking off across rolling hills and meadows. Several stunning bike and pedestrian-only bridges, and outstanding vistas of Stones River mark this more robust bike trail. The route continues along Stones River and ends at Percy Priest Dam. There are numerous side routes and some elevation changes which can make this a good challenge for even seasoned bikers. Still, this greenway is relatively easily traversed by the casual biker as you can easily gauge and adjust the length and difficulty of the route.